From Guinness to Baileys – check out the best Irish alcoholic drinks you should try at least once whenever you come and visit the Emerald Isle.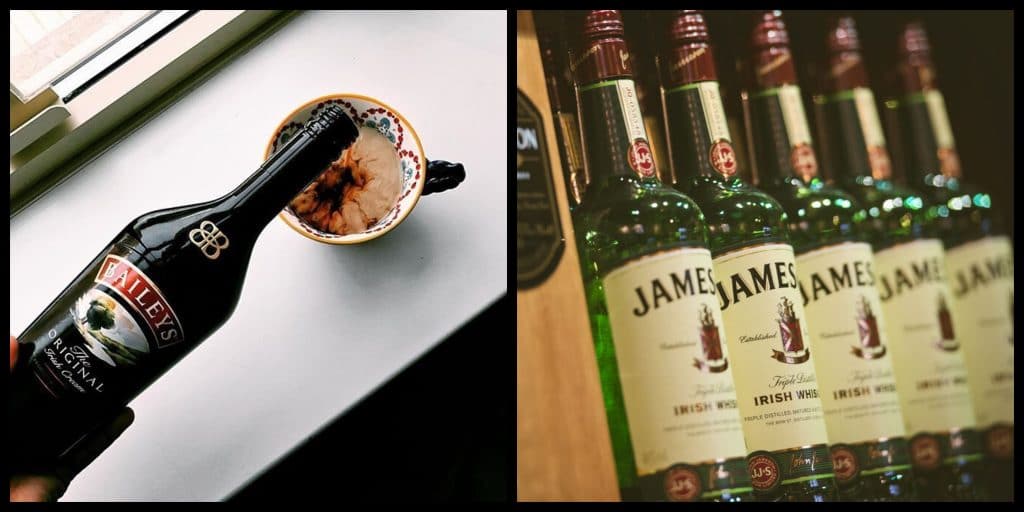 Fancy a drink? Ireland is renowned around the world for its top-notch beverages. Guinness, Bulmers, Baileys, you name them, the Emerald ships them all straight to your house.
It goes without saying that, when in Ireland, your best bet is to sample the Irish alcoholic drinks in one of the many pubs. But what is THE must-try? While our spontaneous thought would be the whole range, we have narrowed it down a little so save you from a massive hang-over.
See our list of the top 10 best Irish alcoholic drinks below – and let us know your favourite!
10. Tullamore D.E.W. – the world's only triple blend whiskey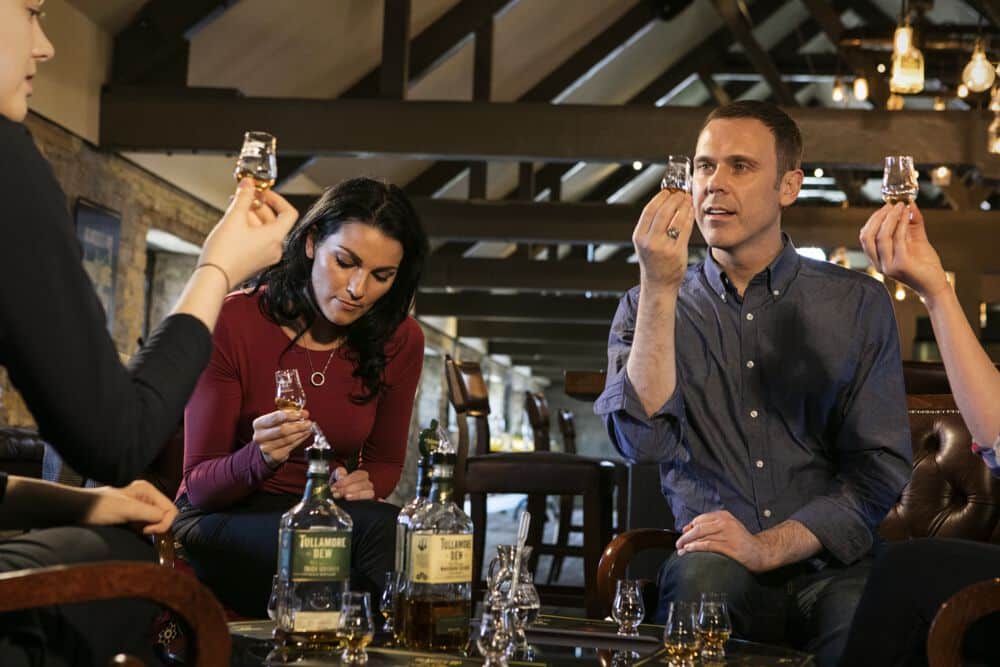 The world's only triple distilled, triple blend whiskey, Tullamore D.E.W. is beloved for its gentle taste and extra smoothness. The man behind one of the best Irish alcoholic drinks is Daniel E. Williams, a local stable boy that worked his way up to become the owner of the Tullamore distillery and created the whiskey in 1829.
Tullamore D.E.W. currently comes in nine blends and sells around one million cases a year. When in County Offaly, you can tour the distillery and try them all.
9. Murphys – Guinness' biggest rival from Cork
Murphy's Irish Stout is better than Guinness – according to the people of Cork. Founded by James J. Murphy and four of his brothers in 1856, it has been brewed in Ireland's second largest city ever since. 
Murphys is less heavy and bitter than its chief competitor and fans describe its flavour as "a distant relative of chocolate milk". A favourite among the best Irish alcoholic drinks, it is sold in over 40 countries and regarded around the world as a superior stout.
8. Bushmills – a top-notch whiskey from the very North
Bushmill is a small town in County Antrim but its signature drink has made it famous worldwide – the site where it's made attracts more than 120,000 visitors a year.
Ireland's oldest distillery in County Antrim has been in operation since 1608 even though the company running it today has only been formed in 1784. Bushmills currently comes in eight blends, from the original whiskey to Black and Red Bush.
7. Coole Swan – an award-winning Irish liquor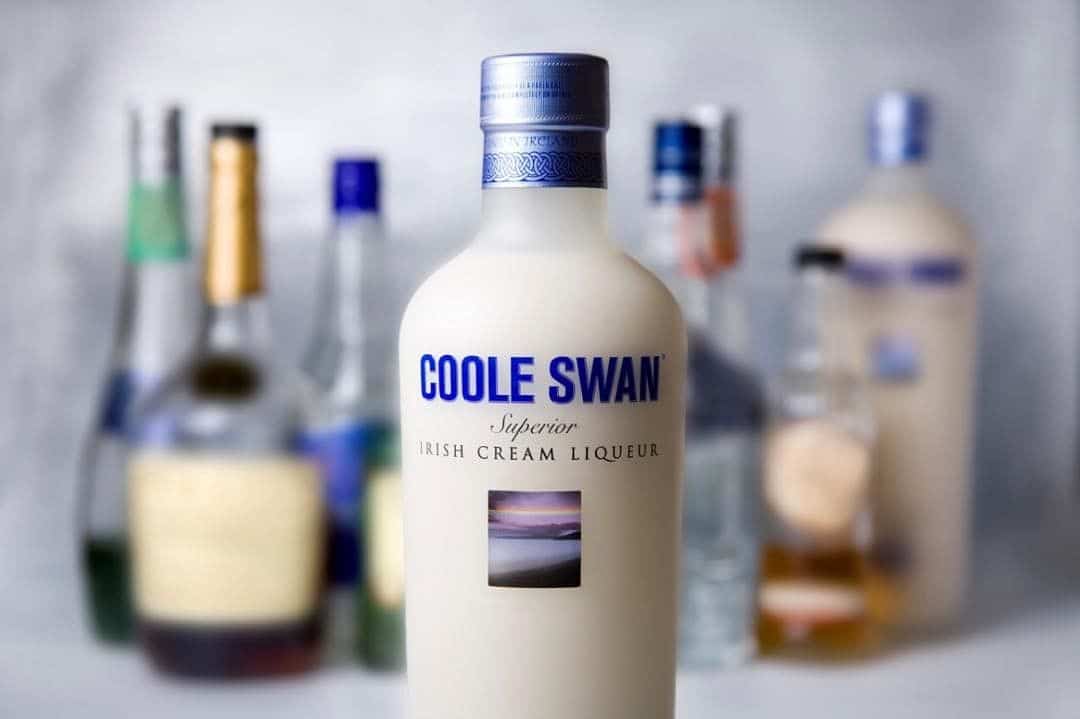 Its name inspired by W. B. Yeats' poem about Coole Park in Galway, Coole Swan is a 100% Irish liquor made of single malt Irish whiskey, white Belgian chocolate and dairy. The Brady family from County Meath started producing it over ten years ago and, according to their website, it took them 230 attempts to get it right.
The long testing was well worth it as Coole Swan has won countless awards since including a double-gold medal at the San Francisco World Spirits Competition. The Irish liquor is made of 100% natural ingredients.
6. Dingle Gin – Kerry's take on traditional gin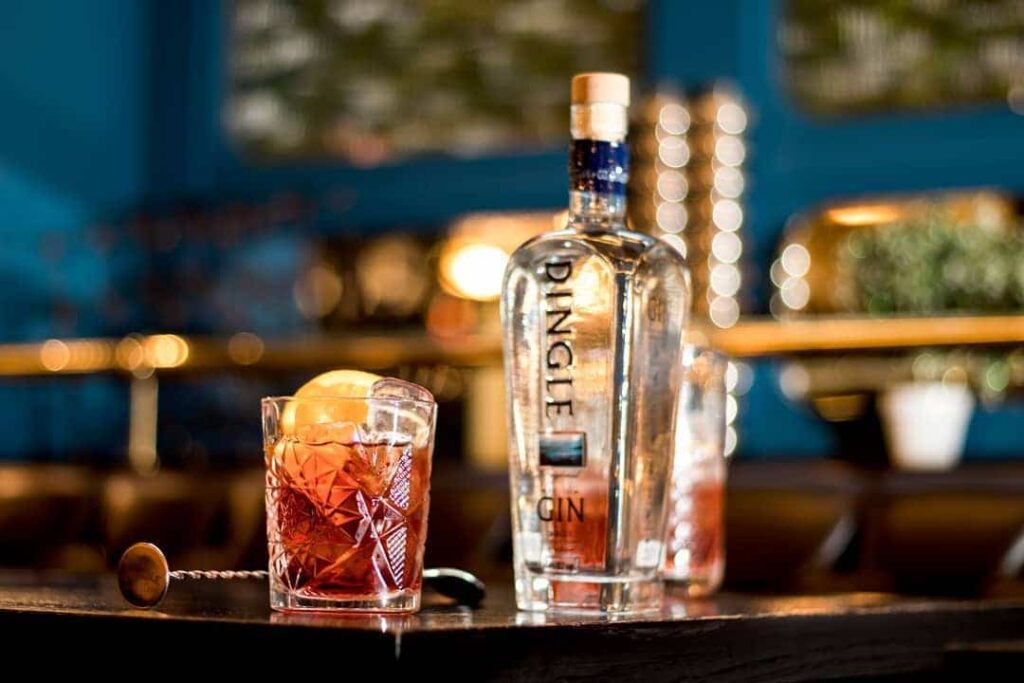 First distilled in 2012, Dingle Gin is a fairly new addition to Irish alcoholic drinks, but it has quickly established itself as a crowd pleaser.
Dingle Gin uses Swedish grain neutral spirit and is made of nine locally grown botanicals, namely juniper berries, fuchsia, rowan berries, bog myrtle, heather, chervil, hawthorn, angelica and coriander. The company suggests serving it with large cubes of ice, a wedge of fresh orange and a sprinkling of juniper berries.
5. Jameson – the one whiskey everybody loves
Jameson is Ireland's number one whiskey export and annual sales passed 8 million cases in 2019. The man behind it, a Scottish lawyer called John James, started producing it in Dublin in 1780.
Jameson is made from a blend of grain whiskey and single pot still whiskey, using a mixture of malted and unmalted locally grown barley, distilled three times for extra smoothness. Besides the original whiskey, there's now a great variety available at the brand.
4. Orchard Thieves – our new favourite Irish cider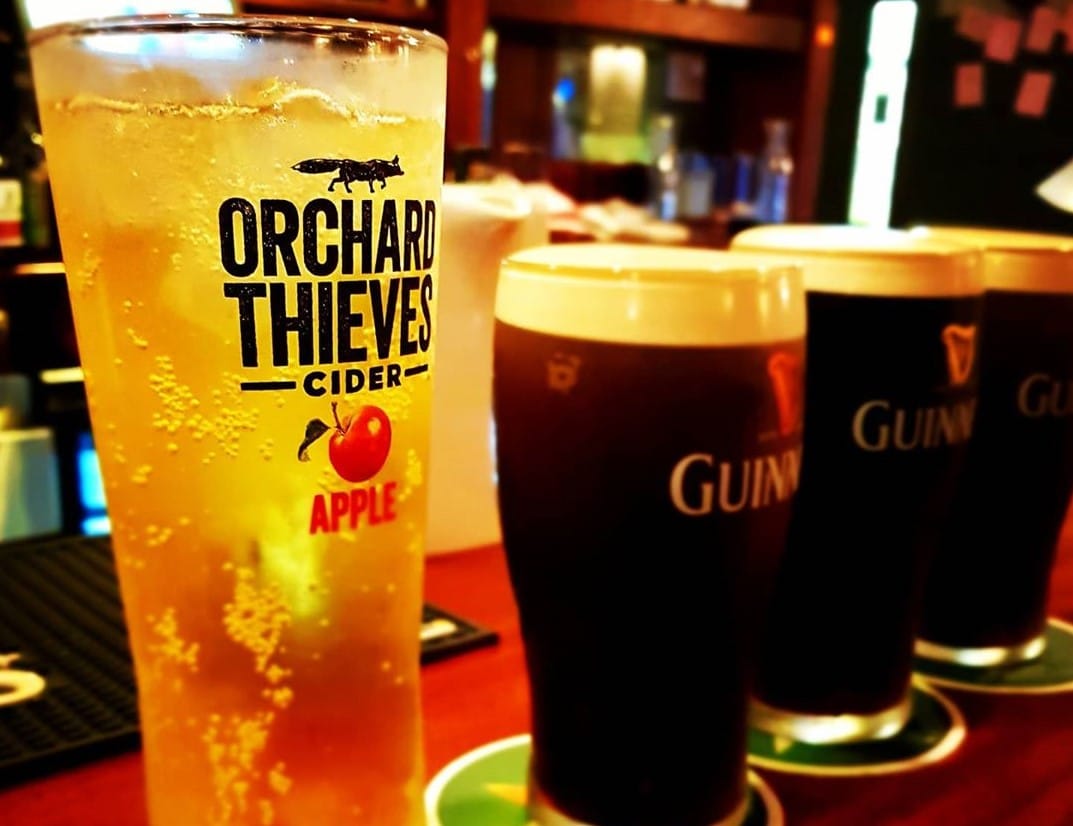 Just five years ago, Heineken Ireland entered the cider market and its first ever mixture, Orchard Thieves, turned out to be an overnight hit.
Orchard Thieves is a sweet cider crafted in Cork from 100% crisp and tart Irish apples and makes a refreshing, tasty summer drink. If you are worried about your shape (or just can't stop sipping the cider like us), try the Orchard Thieves Light, which is 33% lower in calories.
3. Bulmers Original – one of the best Irish alcoholic drinks
There's tons of different ciders in Ireland but the most famous one remains Bulmers. Produced in Clonmel, County Tipperary, and invented by a clever local called William Magner, the pub favourite is made from 17 varieties of apples and is 100% Irish. 
There has been quite some confusion with the UK brand of the same name over time. Therefore, if you are outside of Ireland, Bulmers Original now goes by Magners. The most popular way to drink it is over (lots of) ice.
2. Baileys – the best-selling Irish liquor
If you only try one Irish liquor in your life, make it Baileys. The alcoholic beverage flavoured with cream, cocoa and Irish whiskey was created by Tom Jago and his team in 1973 for Gilbeys of Ireland, originally in their kitchen mixer!
Today, it's sold in 160 countries and it's so popular that (hold your breath!) 2,300 glasses are consumed every single minute! Worried about the cream? Relax! In 2017, the company launched a vegan version made with almond milk.
1. Guinness – Ireland's number one alcoholic drink
Ask anyone around the world about Irish alcoholic drinks and the first thing they will most likely come up with is Guinness. The dark dry stout has been brewed on the Emerald Isle since 1759 when a genius called Arthur Guinness came up with the recipe.
These days, the best-selling Irish alcohol is produced in 50 countries and sold in 120, making almost €2 billion in Ireland alone.
When in Dublin, head to the St James Gate Brewery and explore the brew's history in a seven-storey Guinness wonderland, then enjoy a pint on the top floor with the Irish capital to your feet.