Much of Irish folklore has been passed down through song and many modern bands continue this tradition of storytelling through song. Here, we list our top ten best Irish bands.
We are proud to say that Ireland is home to some of the best musical talent in the world. Many of our musicians have achieved success around the globe, and we are delighted to be able to claim them as our own.
Here is an overview of some of the best Irish bands of all time. Get ready to add them to your playlists.
10. Boyzone­ ­– ­Ireland's answer to Take That
Boyzone was an iconic Irish boy band formed by Louis Walsh. It all started with a newspaper advert calling for auditions from interested men.
From these auditions, Mikey Graham, Keith Duffy, Stephen Gately, Shane Lynch, and Ronan Keating made the cut.
The band achieved fantastic success in Ireland and the UK, racking up nine number one hits and 21 Top 40 singles in their time. Unsurprisingly, they are still a household name to this day.
See where Boyzone ranks on our list of the top 5 best Irish boy bands of all time.
9. The Dubliners – a popular band who were active for fifty years
There is a reason The Dubliners lasted as long as they did: it is impossible not to love them.
They are one of the bands responsible for popularising Irish folk music in mainland Europe, so it's only fitting that they are included on this list.
Fronted by the legendary Ronnie Drew and Luke Kelly, The Dubliners were one of the best Irish bands of all time.
8. The Cranberries – fronted by the amazing Dolores O'Riordan
The Cranberries formed in Limerick in 1989. The group saw significant international success and is considered one of the best-selling alternative bands of the 1990s, with one of the most famous Irish songs of all time.
To date, they have sold approximately 50 million records worldwide. Frontwoman Dolores O'Riordan tragically passed away in 2018, leaving a hole in the heart of Irish culture.
7. The Corrs – one of the best Irish bands of all time
This Louth-based band of siblings are one of the greatest Irish bands. They are one of a handful of musical acts to have simultaneously held both a number one and a number two in the UK charts.
To date, they have sold approximately 40 million records worldwide. You can see where The Corrs ranks on our list of the best Irish rock bands of all time.
6. Clannad – a family group from Donegal
Known initially as Clann as Dobhar (Family from Dore), the Brennan siblings of Gweedore and two of their uncles formed Clannad in the 1970s.
Following the death of uncles Pádraig and Noel Duggan, Clannad now comprises three Brennan siblings: Moya, Pól and Ciarán. They have won many awards in their time, not least a Grammy Award for Best New Age Album when they released 1997's Landmarks.
5. Thin Lizzy – a Dublin-based Irish rock band
Thin Lizzy was formed in Dublin in 1969 and was celebrated for Phil Lynott's lyrics and their two lead guitarists. But one of the things that set Thin Lizzy apart from contemporaries was their multiculturalism.
Not only was Phil Lynott one of the first Black Irish mainstream musicians, their line-up also comprised musicians from both sides of the Irish border which was a powerful stance given the time in which they formed.
They achieved international success with their hits 'The Boys are Back in Town', 'Waiting for an Alibi', and 'Whiskey in the Jar'.
4. The Wolfe Tones – a musical career spanning many decades
The Wolfe Tones have stayed a solid Irish political band since their formation in 1963. They continue to tour extensively across Ireland and America to this day. They take their name from one of the leaders of the 1798 Irish Rebellion and are known for their Irish rebel songs.
3. The Clancy Brothers – easily recognised by their Aran jumpers
The Clancy Brothers are the band most remembered for popularising the Irish folk sound on an international stage. They have influenced some of the most outstanding musicians of all time, such as Bob Dylan and Christy Moore.
2. Westlife – another Irish favourite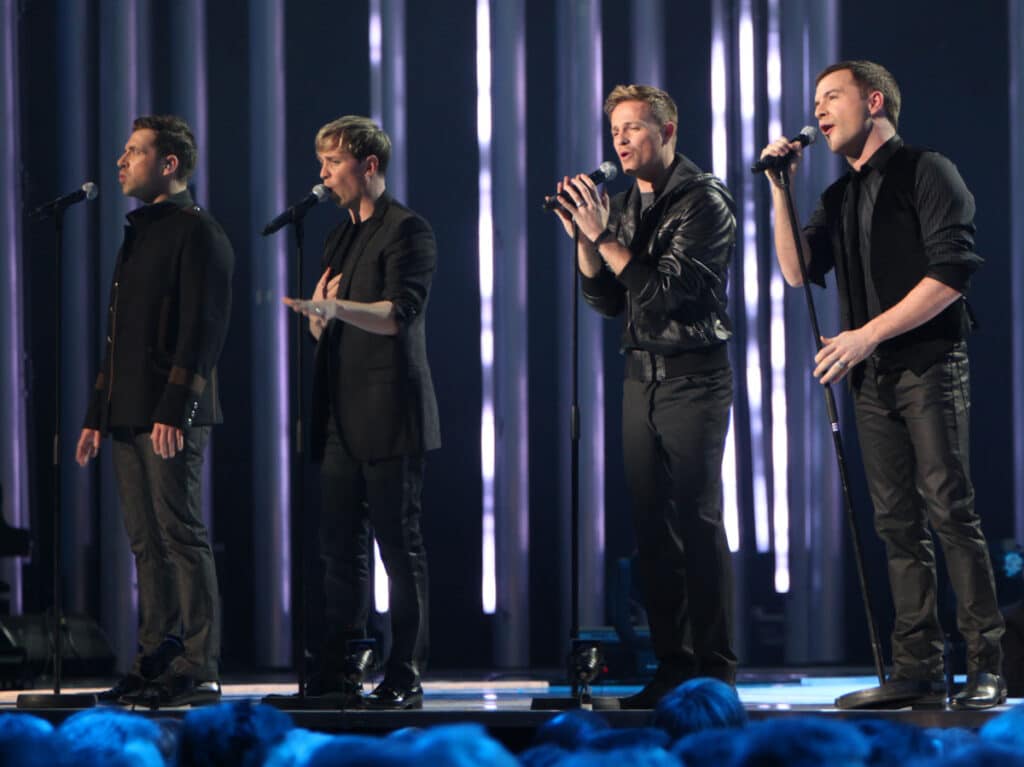 This Irish boy band have had 34 Top 50 singles and 11 number one albums. Furthermore, they have sold approximately 55 million records to date.
Westlife have won an overwhelming number of awards for their contributions to the music scene since their formation in 1998. They are still considered one of the best Irish bands of all time.
1. U2 – Ireland's most celebrated band
The number one slot, of course, had to go to U2. With 22 Grammy Awards, how could anyone else really compete?
Formed in Dublin in 1976, the band, consisting of Bono, The Edge, Adam Clayton, and Larry Mullen, have achieved worldwide success and are hands down the most globally successful musical group to come out of Ireland.