Ah, Ireland — the land of saints, scholars, and Louis Walsh. One delightful consequence of sharing an island nation with the pocket talent mogul is a seemingly endless supply of fine Irish boy bands.
We at Meanwhile in Ireland want to sing the praises of some of our nation's most handsome exports, and shine the light on a few gems you may have forgotten. Get out your Spotify account for this one lads – you can thank us later!
MII's top facts about the best Irish boy bands of all time
Did you know that Boyzone were originally known as "Westlife" before another group with the same name emerged, prompting a change to Boyzone?
Before finding fame, members of Westlife were part of an early 90s Irish boy band called "IOYOU," which disbanded before reuniting as Westlife.
D-Side's member Derek Moran briefly left the group in 2003 but later returned, leading to a temporary five-member lineup during that period.
Westlife holds the record for the most consecutive number-one singles in the UK, with their first seven releases all topping the charts.
5. Mytown – prelude to The Script
Danny and Mark from The Script would only love if we left this one off the list – but we say not a chance. Big shot manager Eamonn Maguire signed this famous pair up to Universal Records as one half of Irish boy band Mytown.
The deal negotiated was one of the biggest in music history, with the band predicted to be the Irish answer to N Sync. Sadly, the timing wasn't right.
Shortly after signing, internal management arguments within Universal led to Mytown and numerous other acts being dropped from the label. Sure look, at least they all have their health. And two of them are in The Script now, so how bad?
Read more: The Script have also made it into our list of the best Irish rock bands of all time. Do you agree with our selection?
4. Hometown – the Irish One Direction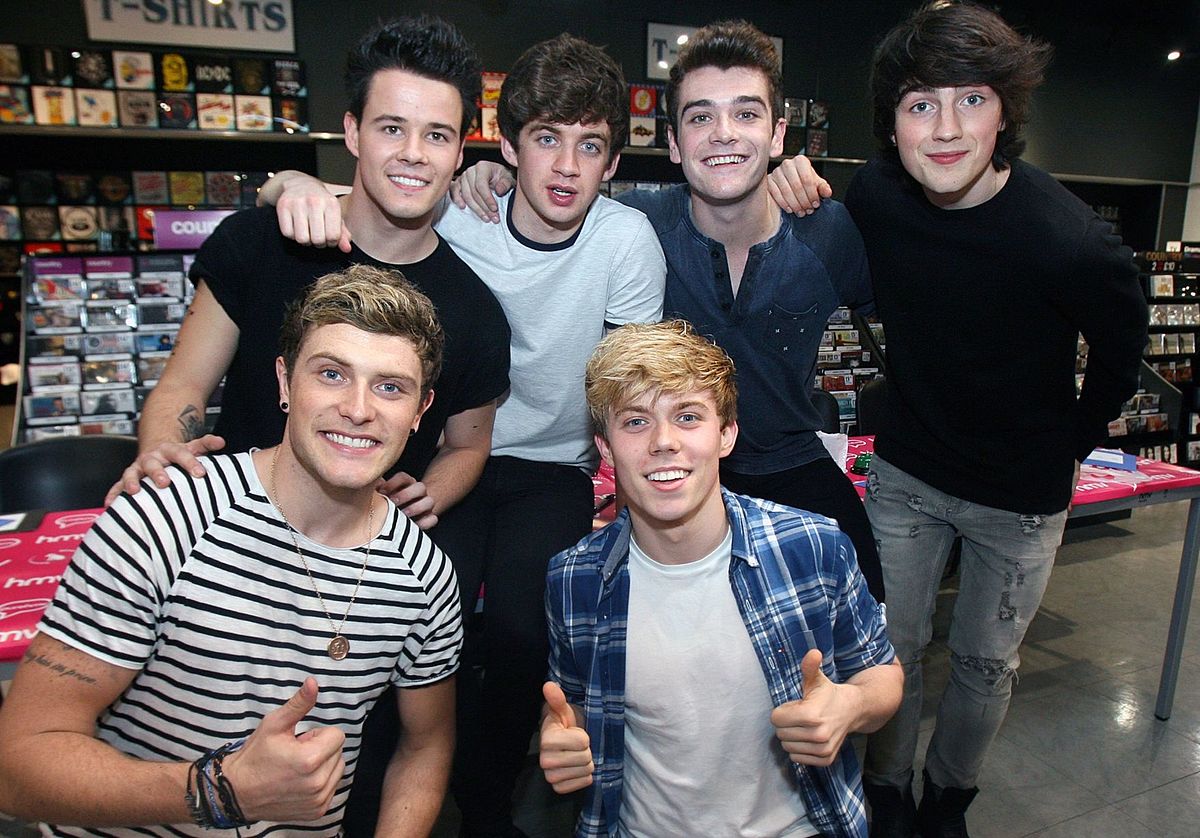 Hometown came in the later era of Ireland's boy band glory days. Louis Walsh formed this group in 2014 with the vision of making an Irish version of One Direction, destined to be one of the best Irish boy bands.
Pretty much every Irish person has a cousin who auditioned to be in Hometown – but only six baby-faced cuties made the final cut. Among the selected was Brendan Murray, the Galway native who stole the UK's hearts on X Factor.
Hometown were a little bit successful – they had two number one singles in the Irish charts, and played some major support gigs on Irish soil (including Olly Murs and McBusted) but it didn't really take off beyond that. In 2016, the band split to pursue individual projects – which, for Murray, meant representing Ireland in 2017's Eurovision.
3. D-side – made it on the other side of the world
We can't be the only ones who remember one of the best Irish boy bands, D-side, right? Many an angst pre-teen evening was spent belting out the lyrics to "Invisible" in Meanwhile in Ireland HQ back in 2004 (by which we do mean our respective childhood bedrooms).
While the vocal trajectories of Derek Ryan and co may not have made a very memorable splash with Irish music fans, it seems Japan at least has a bit of taste. D-side were only massive in the Land of the Rising Sun, and even released a greatest hits album specifically for their Asian fan base! Lucky sods.
In-depth research reveals that even Japan haven't had any new music from D-side since 2006. It's true what they say, you don't know what you've got 'til it's gone…
2. Boyzone – of the best ever Irish boy bands
Boyzone hit the limelight around the same time as the Spice Girls, hence serious playground rivalry about which fandom was the better one to be a part of. Boyzone were an Irish boy band, to patriotism often gave them the trump card.
Although many of the former members have attempted to build a name outside of the group – Ronan Keating has had a relatively successful solo career, and Keith Duffy enjoyed a stint on Coronation Street – they'll always be Boyzone to us. Thankfully, they seemed to come on board with this assessment and toured again as a band in 2019.
Read: Check out Meanwhile in Ireland's article on the top 10 best Irish bands of all time and see where Boyzone ranks
1. Westlife – the band to end all Irish boy bands
Westlife are the Irish boy band to end all Irish boy bands. Every Irish girl (and let's be honest, most Irish boys) had a favourite member of Westlife that they devoted large portions of their bedroom wall to in the glorious era that was late 90s/early 00s Ireland.
In an attempt to appear grown up, we in Ireland like to pretend that we don't listen to Westlife anymore. However, every time a reunion stadium tour is announced (which seems like every second summer) a load of thirty-somethings go racing out of their offices to the nearest Ticketmaster stand, Nicky Byrne fan club membership card in hand.
It may seem like we're in a World of our Own, but our nation's passion for this Irish boy band genuinely is Unbreakable. (Sorry, we couldn't resist!).
Related: Fan of Westlife? What do you think about our list of the top 10 best Westlife songs of all time?
Your questions answered about the best Irish boy bands of all time
Read our article and still have some questions unanswered? Not to worry! For here, we have put together some of the most frequently asked questions about the best Irish boy bands of all time.
Who is the most successful Irish band of all time?
The most successful Irish band of all time would be far and away U2! The band have sold an incredible 175 million records worldwide.
Who is the most famous Irish band?
Again, U2 would take this prize. However, Westlife has its own stake to claim. Other include The Cranberries, The Script and Thin Lizzy.
Who was more successful Boyzone or Westlife?
Both were managed by Louis Walsh and did very well, but based on the numbers, Westlife sold more records and had more number ones, too.
What is the most successful boy band of all time?
The most successful boy band of all time is The Backstreet Boys.
MORE MII ARTICLES ON IRISH MUSIC
10 best Irish bands of all time, ranked
Top 10 most famous Irish songs of all time, ranked
Top 10 best Luke Kelly songs of all time