Ireland and comedy go hand in hand, and the proof is in the pudding. Here are the best Irish TV comedy shows we all know and love.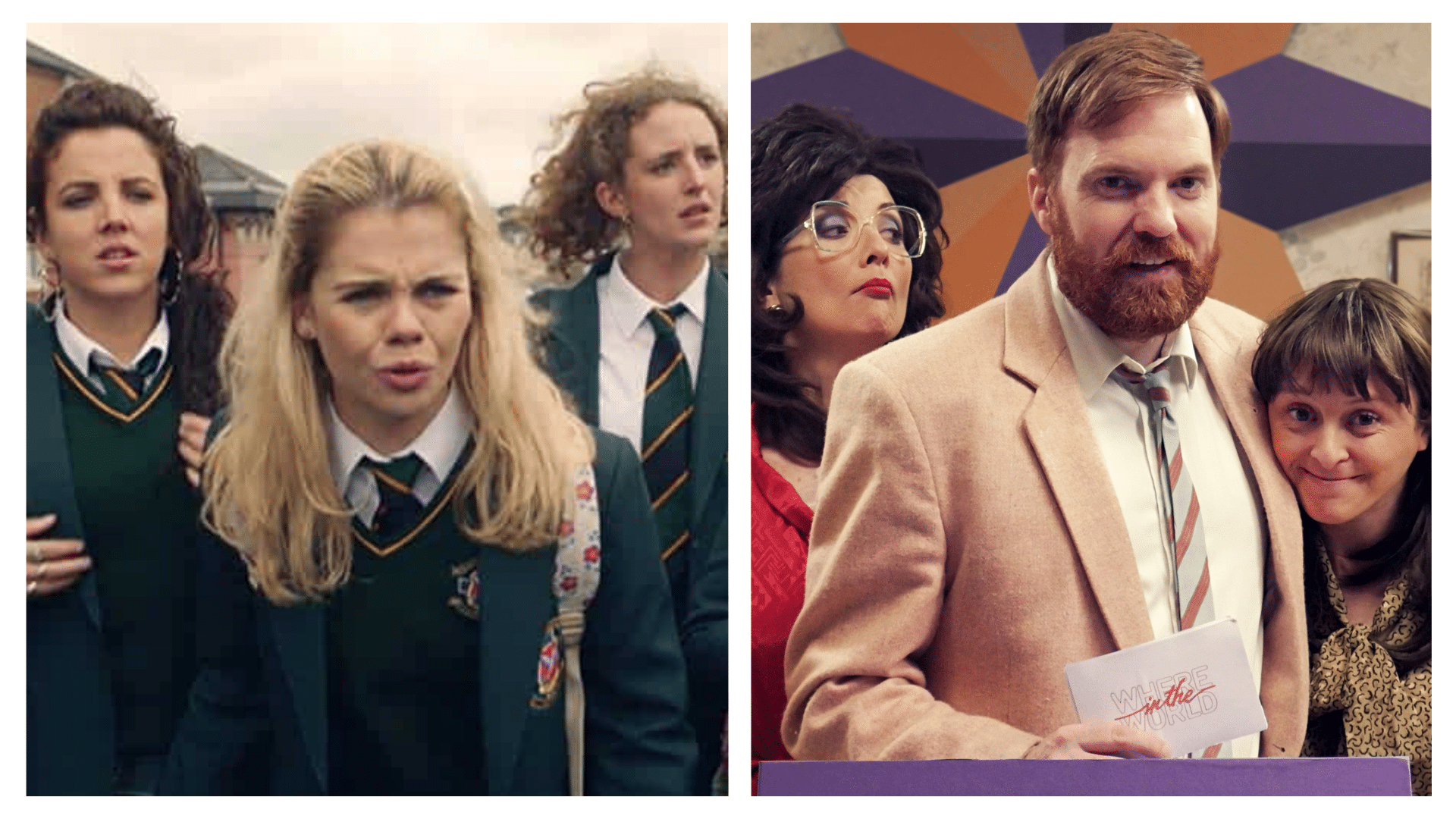 As you might know, the Irish are well known for their sense of humour, which is apparent in the success of Irish comedians and Irish comedy films and TV shows that have emerged throughout the years.
Irish TV comedy shows have long been a great way to bring people together, laughing until their sides hurt, and there are plenty of shows we all remember to this day. From Father Ted to The Young Offenders, here are the ten best Irish comedy shows of all time.
10. Gogglebox Ireland – a humorous Irish reality show
This Irish reality show featured groups of families from across Ireland reacting to several shows broadcast in the nation.
The hilarious show gained success and strong ratings, which prompted it to be renewed for multiple seasons. It remains one of the country's best-loved comedic shows.
9. Republic of Telly – Ireland's beloved satirical show
If there is one thing the Irish nation loves, it is a bout of satirical humour, and Republic of Telly provided precisely this.
The magazine and TV review show examined and mocked a variety of Irish and British TV channels and featured well-known celebrities like the Rubberbandits, whose chart success for their song 'Horse Outside' was down to the show.
Naked Camera was on air between 2005 and 2007 and was penned by comedians P.J. Gallager, Maeve Higgins, and Patrick McDonnell.
The hidden camera show is one of the best Irish TV comedy shows of all time and was set mainly in Dublin, featuring the three comedians as interchangeable sketch characters.
7. Bridget & Eamon – a truly hilarious Irish show
Starring Jennifer Zamparelli and Bernard O'Shea as a miserable married couple in 1980s Ireland, Bridget & Eamon is based on sketches that first appeared on Republic of Telly.
The series, which followed the lives of a couple living in the Irish midlands, won multiple awards, including an IFTA for best comedy in 2016.
6. Hardy Bucks – an award-winning Irish TV comedy show
What started as a YouTube series quickly became one of the country's favourite award-winning TV comedy shows once it hit Irish tellies. The mockumentary circled a group of friends navigating life in rural Ireland and gave us all a good laugh. It still does.
5. Killinaskully – a true comedic classic
One of Ireland's funniest comedians, Pat Shortt, starred in this hilarious show, one of the best Irish TV comedy shows of all time.
Guaranteed to give you a laugh, the show was set in the small fictional town of Killinaskully, where plenty of comical situations occurred, which we could all relate to.
4. The Young Offenders – the troubled life of two Corkonians
Conor Mac Sweeney and Jock O'Keefe are The Young Offenders, two Corkonians who try their best to get through life despite money struggles and strife.
The loveable rogues live a pretty adventurous life, and each episode has been bringing laughter to every Irish household since 2018.
3. Mrs. Brown's Boys – a legendary Irish comedy set in Dublin
Mrs. Brown's Boys is undoubtedly one of the best Irish TV comedy shows of all time. It stars Brendan O'Carroll as a comical Irish mammy living in Finglas, County Dublin.
The show, which initially started out on the radio, made it on screen and has raked in millions of views since it first aired in 2011.
2. Derry Girls – a hugely successful Irish comedy
Until Derry Girls, few comedy series could compete with Father Ted reruns, yet this show took the nation by storm and became a firm favourite for many.
Set in Derry, the series follows a group of hilarious friends living amidst the political conflict of the 1990s in Northern Ireland.
1. Father Ted – in the heart of the nation
Father Ted is the most iconic and best Irish TV comedy show of all time, and not many will disagree.
Although the series only featured 25 episodes between 1995 and 1998, it lives on in our memory, and every Irish person quotes a line from the series at one time or another. It's a legendary comedy show!
So, if you fancy sitting back and enjoying some classic Irish comedy, you cannot miss a few episodes of these hilarious Irish TV comedy shows, which we all know and love.