Dublin is a place that many famous people call home, here are the ten most famous people from Dublin of all time, ranked.
Dublin is the capital of Ireland and the largest city in the country, so it's no wonder some of its residents have gone on to become huge successes in their field.
For centuries, Dubliners have shared their talents with the world, some leaving for good to make it big and some returning to live out their fame in their homeland, but there's no doubt that Dublin is the place where many began to change the world.
From musicians to poets and actors to athletes, the variety of talent that has come from the capital, is endless and is still thriving to this day with more and more opportunities for people to share the gifts they have.
Let's take a look at the ten most famous people from Dublin of all time, ranked.
10. Conor McGregor – from Crumlin, Co. Dublin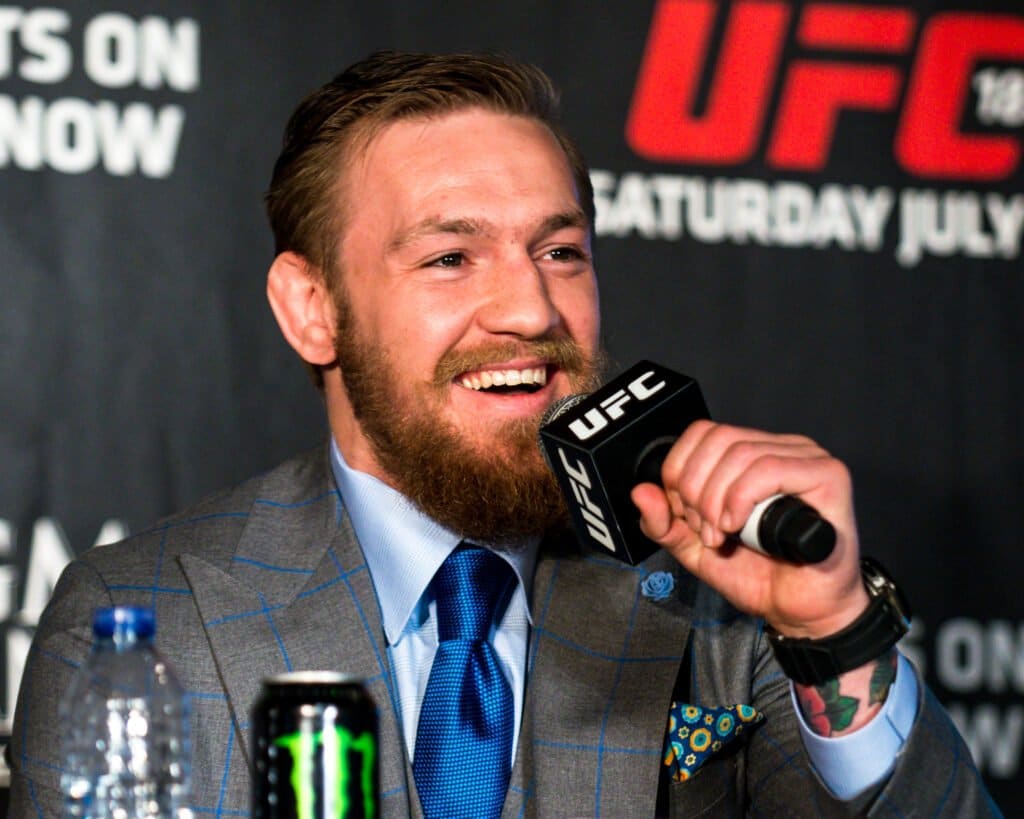 If you don't know this fella, you must be living under a rock.
Even if you are not a fan of MMA, his name has made it around the globe in a short space of time.
Mcgregor became legendary in his industry at such a young age and is a former UFC lightweight and featherweight champion.
9. Brendan Gleeson – from Malahide, Co. Dublin
Gleeson has starred in some epic movies including Gangs of New York, Michael Collins, Braveheart, and, of course, he is well known for his recurring role in the Harry Potter series playing Alastor Moody.
He is also starring as Donald Trump in the upcoming series The Comey Rule, for which he has been praised for his uncanny portrayal.
8. Gabriel Byrne – from Walkinstown, Co. Dublin
Having starred in over 70 films and working under some of the industries' best directors, he now directs and produces his own work and is an author.
He was named at number 17 on the Irish Times list of Ireland's greatest actors.
7. Colin Farrell – from Castleknock, Co. Dublin
Well, this guy needs no introduction. Farrell has gone on to star in some of Hollywood's biggest movies including Intermission, Phone Booth, and In Bruges, which also started fellow Dub, Brendan Gleeson.
Farrell is up there with the best Irish actors of all time.
6. Maureen O'Hara – from Ranelagh, Co. Dublin
Hollywood's queen of technicolour was born and bred in Dublin, but when she was discovered as a talented actress in her early days, she was enticed over the pond to star in some of the biggest movies alongside John Wayne and James Stewart.
She has made a considerable impression on the film industry and her Irish wit and charm were what made her stand out from other actresses of her time.
5. Bram Stoker – from Clontarf, Co. Dublin
Anyone who has heard of Dracula has heard of Bram Stoker, also known as Abraham Stoker.
His book, which he got the inspiration for from many places and much research, has become one of the biggest stories ever. Still, it wasn't such a hit initially; in fact, it wasn't until later in the 20th-century when the movie versions appeared that it became so popular.
4. Samuel Beckett – from Foxrock, Co. Dublin
Beckett is one of Ireland's most famous short story writers, novelists, and poets, who was awarded a Nobel Prize in Literature in 1969.
He is most famous for his play Waiting for Godot, and he is regarded as one of the most discussed and praised authors of his time.
In Dublin city centre, there is a bridge named after him, which crosses the River Liffey.
3. Bono – from Finglas, Co. Dublin
Paul David Hewson, better known as Bono, is the frontman of the band U2, which is known worldwide.
He is famous in his own right for his political activism and has set up various organisations to help with many causes around the world, especially Africa.
2. James Joyce – from Rathgar, Co. Dublin
Best known for his book Ulysses, Joyce is considered one of the most influential writers of the 20th-century.
His other works include the short story collection called The Dubliners and Finnegan's Wake.
1. Oscar Wilde – from Merrion Square, Co. Dublin
An inspiring author, playwright, and poet, Wilde is best known for his play The Importance of Being Ernest and his novel The Picture of Dorian Gray.
He was also well known for his flamboyant style, his quick wit, and his infamous imprisonment for homosexuality. His is a name that everyone in Ireland and the world will recognise.