Our very own version of soccer ranks among the most popular sports in Ireland. Brush up your knowledge with our ten mad facts about Gaelic football below.
Two teams, two goals, one ball – Gaelic football might seem just like the ordinary soccer played around the world at first glance.
However, the Irish version really is a mix of the former, rugby, and – some might even say – elements of basketball. Thus, Gaelic football is a unique team sport that has been played on the Emerald Isle for centuries.
With 80,000 spectators at the final every year, it ranks among the most popular sports in the country. And whether you are living in Ireland or just visiting, watching at least one match is something you shouldn't miss out on.
If you are worried you might look like a greenhorn, just memorize our fun facts about Gaelic football.
Meanwhile in Ireland's top tips for getting involved in Gaelic football
If these following facts get you interested in the sport, here are some tips to help you get involved with Gaelic football:
Go to GAA matches. The county season runs from January to July, and the club thereafter. So, you have ample time year-round to get down to see a game!
The best way to get intimately involved with the GAA and to get the most out of your experience would be to join a GAA club. Find out where the nearest is to you.
If you join a club, become one of the many thousands of volunteers across Ireland who dedicate their time to improving the game from the grassroots up.
Learn all of the rules of Gaelic football, such as the hand-pass, toe tap, points gained for a goal etc, to help fully understand.
Become a paying member of your chosen club to help fund its activities and consider donating when needed or taking part in any fundraisers.
10. Gaelic football first appeared in Irish records in 1308 – when a player was "accidentally" stabbed
Gaelic football as we know it today has been around since the 19th-century, but variations have been played in Ireland since way before that time.
The earliest mention in Irish legal records was in 1308 when spectator John McCrocan "accidentally stabbed" a player called William Bernard. Further details about the deadly incident are unknown to date.
9. The sport was forbidden by law in 1695 – but people continued to play it
Playing team sports of all kinds, including Gaelic football, was banned by law in 1695. According to the Sunday Observance Act, anyone caught could be fined a shilling – one of the most fun facts about Gaelic football.
However, it proved difficult, if not impossible, to enforce the act and the sport kept rising in popularity despite possible fines. The first recorded inter-county football match was between Louth and Meath at Slane, in 1712.
8. Rugby was its primary competitor – and Gaelic football almost eclipsed
From the middle of the 19th-century, English rugby became more and more popular in Ireland – and Gaelic football lost its appeal to many, even its most devoted fans in the countryside.
In 1884, the Gaelic Athletic Association (GAA) was formed to save and promote the traditional sports. However, another three years passed until it was officially codified.
Related: Have a look at Meanwhile in Ireland's article on 5 Six Nations CLASSICS between Ireland and France
7. Gaelic Football has no offside rule – a fact that distinguishes it from soccer
Never quite got the offside rule? No need to worry because in Gaelic football there simply isn't one. A fact that notably differentiates it from most other team field sports.
Gaelic football was the third form of football to be codified in Ireland in 1887 – and it's still the only one without an offside rule to date.
Read more: If you tilt more towards soccer, check out our article on the top 10 best Irish soccer players of all time
6. The longest-serving GAA president lasted 20 years – and the shortest just two months
The GAA has had many presidents throughout the years, but two of them really stood out: James Nowlan from Kilkenny held the job from 1901 to 1921 – making him the longest-serving GAA president in history. The GAA stadium in Kilkenny was named in his honour.
On the other end of the spectrum, E.M. Bennett of Clare only lasted for two months in 1887. He was removed because of his political engagement.
5. Women love it, too – ladies' Gaelic Football has been popular since the 1970s
If you thought Gaelic football was just for guys, think again. In fact, women have been playing it since the early 20th-century, with the sport getting more and more popular since the 1970s.
Ladies' Gaelic Football follows almost identical rules as the male version. However, the matches tend to be slightly shorter, the ball is a bit smaller, and all deliberate bodily contact is forbidden. Indeed, the sport is so popular that it remains one of the top things Irish people will do in their spare time.
Read: If you intend on going to watch a men's or women's football match, why not don any one of the top 10 BEST GAA jerseys to wear in 2023, RANKED
4. Xabi Alonso is a massive fan – he played Gaelic football on student exchange
Spanish football legend Xabi Alonso ranks among the most prominent supporters of Gaelic football abroad.
At the age of 15, he spent a summer in the Irish town of Kells, Co. Meath, to study English. During his time there, he was introduced to Gaelic football by the local kids.
Even if he later ditched the Irish sports for a professional football career, we are immensely proud that a Champions League and World Cup winner keeps cheering for our players!
3. There are teams in the Arctic Circle – the Fins love Gaelic football
The Irish sport has fans around the globe, but two of the most notable teams are based in Finland – one of the weirdest facts about Gaelic football.
The Oulu Irish Elks and the Helsinki Harps play their matches more than 2,000 kilometres north of Ireland.
What's even more surprising: a whopping 50 per cent of the Helsinki players are Finnish with no family ties to the Emerald Isle.
2. A final was delayed because a player broke a crossbar – an unforgettable moment in history
Emotions often get high during final matches but Roscommon player Enon Gavin took them to a new level in July 1992 by pulling down the crossbar and breaking it in the second half.
When the team took Mayo in McHale stadium in Connaught, 21,000 fans witnessed the incident that led to the delay of the match for almost an hour.
1. Gaelic football players don't get paid – at least not officially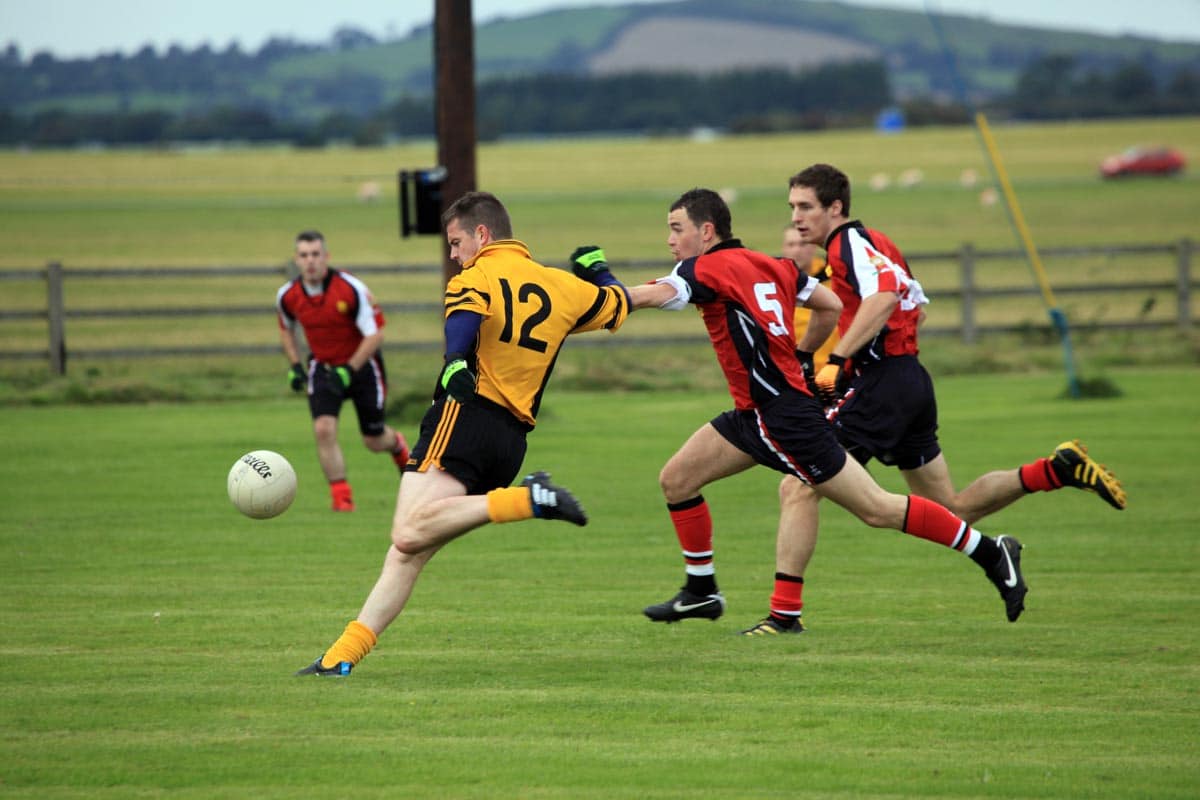 While it's one of Ireland's most-watched games, one of the maddest facts about Gaelic football is that its high-level players don't get paid. Yes, you read that right!
Unlike their colleagues that make millions in soccer, rugby, and the likes, most Gaelic football players have other full-time jobs to support their careers in sports. However, some of the top stars have managed to make a living of sponsorship and promotion deals.
There have also been talks about under-the-table-payments for years – but they have never been confirmed by the GAA.
Your questions answered about the mad facts about Gaelic football you never knew
You may have read our article on the mad facts about Gaelic football you never knew and still have some questions. But that's okay, for we have you covered! In this section, we have put together some of the most commonly asked questions about this topic.
What are some facts about Gaelic football?
Some of the most important facts to know about Gaelic football is that it is 15-a-side with 5 subs allowed, club games last 60 minutes and county games last 70, while you can only take four steps at a time before either toe-tapping, bouncing, hand-passing or kicking the ball.
What is not allowed in Gaelic football?
Some things that are not allowed in Gaelic football are lifting the ball directly off the ground (however, this is allowed in the women's game), over-carrying the ball by holding it in your hands for more than four steps, and deliberately pulling a player down. This will earn you a black card and a 10-minute sin bin.
What was Gaelic football originally called?
Different forms of football became known as "Caid" in the 19th century, where there were matches between different university teams.
How old is Gaelic football?
Gaelic football as we know it today dates back to the 19th century, while the first reference to the sport goes back to 1308. However, the Gaelic Athletic Association (GAA) was found on 1 November 1884.
NEXT: Check out where the All-Ireland Football Final, the ultimate showpiece in Gaelic football, ranks on the list of the UK and Ireland Sporting Bucket List
Legal Disclaimer
We cover articles relating to many activities. Some of our articles showcase gaming and gambling as activities. While we do not take money for bets or own any gambling venues, we feel it is important that our readers know the risks of such venues or sites that we may mention in our articles. Gambling involves risk. Please only gamble with funds that you can comfortably afford to lose. See our legal disclaimer for more info.