If you are looking for a laugh, then you will be sure to get one by looking at any of the funniest Irish videos on YouTube from the past ten years.
YouTube has always been a home to great comedy with millions of funny videos to be found on it.
Ireland has certainly made its comedic contributions to the online platform, too, as can be seen from some of the funniest Irish videos on YouTube from the past decade.
In this article, we will list what we believe to be the funniest Irish videos on YouTube from the past ten years.
Meanwhile in Ireland's overview of the 10 funniest Irish videos on YouTube
One of the funniest Irish videos on YouTube from the last ten years includes when RTÉ presenter Aengus MacGrianna is caught on live TV powdering his face.
Is the man who fell on ice on RTÉ the funniest Irish video on YouTube, or is it the video of an Irish family dealing with a bat that got into their home?
One of the funniest Irish videos on YouTube that ranks high on our list is when a man from Tipperary gets increasingly and increasingly angrier with his SatNav. Who can relate?
If you have ever seen the hilarious video of when a young man tells his father he failed his driving test and filmed his reaction, then you will know why it ranks on our list.
What do you find funnier? The time when a man on RTÉ was seen completely fake typing, or the Airport Santa kid on TV3?
10. Fake typing on RTE News – what were they thinking!?
What makes this video hilarious is how obvious it is that the man is not hitting any of the keys at all, how did they think they would get away with this fake typing?
9. Airport Santa kid on TV3 – so bad, but so funny
You can't help but laugh at this video even though you may feel a little guilty about it after.
This video shows a kid at the airport excited at Christmas who runs off while not looking ahead and runs into some oncoming suitcases, falling flat on his face. 
Luckily, he was fine afterwards and can hopefully laugh back at it now.
Read: SATIRE: Watching YouTube all day is a good hangover cure, scientist reveals
8. Man hurts himself clapping on Winning Streak – how did this even happen?
Have you ever seen a man clap so hard that he ends up hurting himself?
Well, if you look at this video, you will get the chance. How this even happened is still a great and hilarious mystery.
7. Driving test dad – an angry dad
This video, which contains some very NSFW language, shows Feilim McHugh who just passed his driving test tell his father that he failed while filming the reaction.
The dad's rant went viral and was even one of the top global videos on Reddit.
6. Tipperary man fights with his Sat Nav – man vs technology
I think we can all relate to this video of a man fighting with his Sat Nav.
What makes this one particularly funny is how the man gets angrier and angrier with the Sat Nav who he thinks has a personal vendetta against him.
5. Aengus MacGrianna powdering his face on live TV – the hazards of live TV
In this clip, you can't help but feel sorry for the RTE news anchor Aengus MacGrianna who is shown live on TV adjusting his tie and powdering his face.
Unbeknownst to him, his broadcast has already started with him caught unawares.
4. The man who fell on the ice – a hilariously unexpected slip-up
In January 2010 Ireland was gripped with cold, ice, and snow, and with the country in a recession, it was a tough time.
However, the Irish people were given a much-needed lift during a live report on RTE News on how Dublin City Council were clearing the streets of winter sludge.
In this video, a man came into view behind the reporter and took a hilarious tumble that you couldn't help but chuckle at.
Read: Check out our piece on the story behind the iconic RTÉ News clip of man who slipped on ice
3. The Irish family and the bat – catch him, Derry!
This video of an Irish family dealing with a bat, which has flown into their kitchen became famous worldwide as it went incredibly viral. 
The phrase, "Catch him, Derry" has become a viral catchphrase and has to be one of the standout moments from the video. Who knew a bat could cause such a hilariously chaotic situation?
Related: Social media has moved from YouTube to Tikok these days, so check out Meanwhile in Ireland's article on the top 10 Irish TikTokers you should definitely be following
2. Castletown Donkey Derby 1994 – a crazy day ou
With nearly a million views on YouTube, this funny Irish video has gone down in history with the star of the show being Joe O'Brien who ended up being the reluctant presenter/commentator of the Castletown Donkey Derby.
The commentary and performance by Joe O'Brien, coupled with the crazy events that occur during the race itself, make for entertaining and funny viewing.
1. What's snots – live TV at its best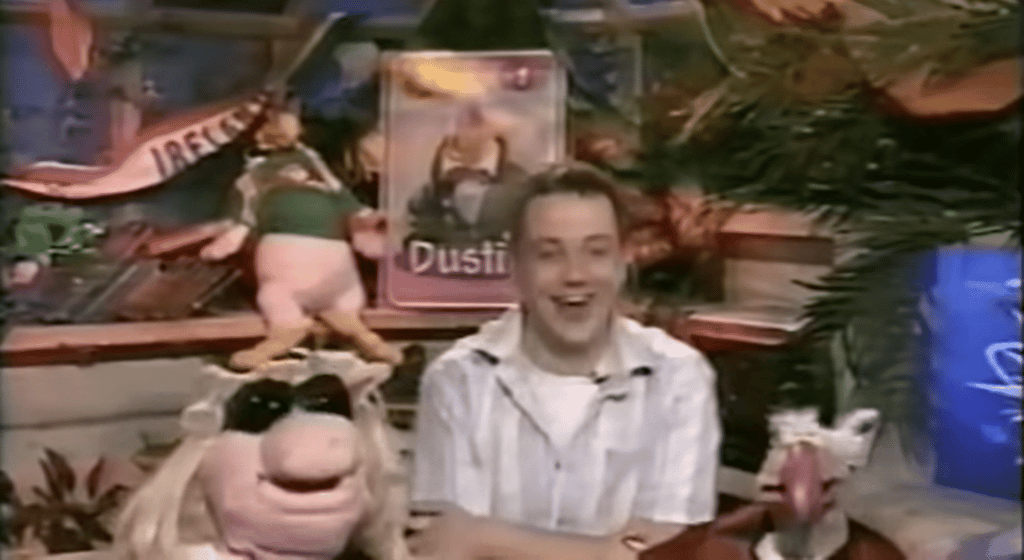 In first place on our list of the funniest Irish videos on YouTube from the past ten years is the 'What's Snots?' video.
'What's Snots?' was a game on the Den, which was a children's TV show.
The game involved inviting two children over the phone to guess the people, place, person, or object that Snotser was thinking of.
Amy from Cavan and Kevin from Galway were the contestants hoping to win a bicycle, what happened next has to be seen to be fully appreciated. Kevin seemed not to understand the object of the game and what ensued was comedy gold.
That concludes our article on the funniest Irish videos on YouTube from the past ten years. How many of them have you seen?
Your questions answered about the funniest Irish videos on YouTube
If you have read our article and still have some outstanding questions, you are in the right place. In this section, we have put together the most frequently asked questions about the funniest Irish videos on YouTube to us and from online.
Who is the Irish comedian from New York?
This would be Desmond Bishop, who is an American-Irish comedian who was brought up in New York but moved to Ireland aged 14.
Who is the biggest comedian in Ireland?
The biggest comedian in Ireland today is arguably Tommy Tiernan.
Who is the biggest Irish celebrity?
The biggest Irish celebrities in the world today would be Cillian Murphy, Conor McGregor, Michael Fassbender, Niall Horan, and Colin Farrell.
Who is the most famous Irish actor?
The most famous Irish actor is probably Cillian Murphy. Others include Brendan Gleeson, Colin Farrell, Saoirse Ronan, and Paul Mescal.