Only two percent of the world's population sport red hair – find out in our fun facts about ginger hair why redheads are biological unicorns with superpowers.
If you are a born redhead, consider yourself lucky – gingers are a rare species that stands out from the crowd. It's not a coincidence, after all, that 30 percent of all women that dye their hair opt for a red shade.
However, the copycats – both male and female – will never hold a candle to the natural gingers. No matter if you are a redhead yourself or fancy one, check out our ten facts about ginger hair and impress your next date with your newly found insights (make sure to read to the very end!).
Meanwhile in Ireland's interesting facts about red hair in Ireland:
Ireland has the highest percentage of redheads per capita than any other country in the world – even Scotland.
When the Vikings settled in Ireland upon invasion in 795 AD, many schools of thought believe that their presence could have greatly contributed to the redheaded gene pool in Ireland.
Until very recently, Ireland played host to an annual Redhead Convention in Crosshaven, County Cork. The proceeds of the convention went to charity.
Some of the most famous Irish people with ginger hair include Brendan Gleeson, Domhnall Gleeson, Maureen O'Hara, and Mary McAleese, to name a few.
Kiss a Ginger Day celebrated its 10th anniversary in Dublin in 2019. It was originally started to offset 'Kick a Ginger Day'.
10. Redheads are pretty rare, and special – a one of a kind
Less than two percent of the global population have ginger hair, that's about 140 million people in total. Ireland has the highest percentage, while Scotland comes in at a close second.
If you are a ginger with blue eyes, you won the golden ticket – according to our fun facts about ginger hair that's the rarest combination worldwide and estimates show there's only one million people of your kind around the globe.
9. Both parents need to carry the red gene to have a ginger – it's a biological thing
Wondering why there's so few gingers? It's a biological thing. In order to have a redhead baby, both parents must carry the ginger gene MC1R.
That doesn't mean they necessarily have to sport red hair themselves though. A couple with one ginger and one blond or brunette carrying the red gene has a 50 percent chance of producing a natural redhead – for two non-ginger carriers the chance is still one in four.
8. Ginger hair can occur in any ethnicity – a hair for all
While redheads are most commonly spotted around Northern Europe, they aren't unique to a geographical area or race. There's even a small portion of Jamaicans sporting red hair.
Unlike popular belief, our facts about ginger hair also show that the beautiful shade didn't originate anywhere near Ireland or Scotland but in Central Asia some 100.000 years ago.
7. Redheads have less hair, but it's thicker – making the head look just as full
Gingers have an average of 90.000 hair strands whereas blondes have 110.000 and brunettes a startling 140.000. However, that doesn't mean that redheads are more likely to get bald.
Red hair is generally thicker than other shades, which perfectly compensates for the lower number and makes the head look just as full.
6. Gingers are masters at producing vitamin D – turning a disadvantage into power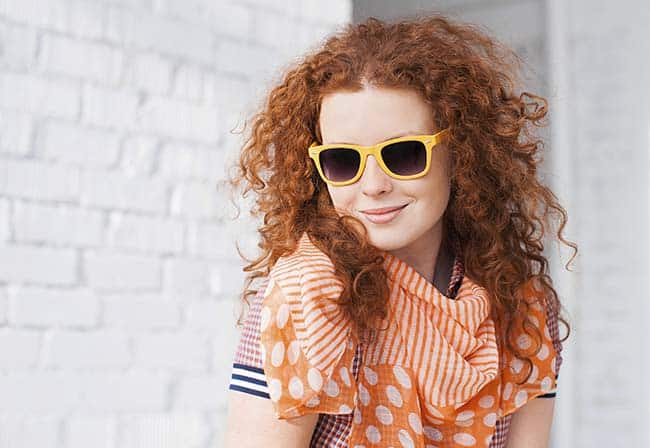 Due to their lower melanin-concentration, redheads can't absorb vitamin D just as quickly as the rest of the world. But they've managed to turn the disadvantage into a super power.
Gingers have a greater ability to produce their own vitamin D, meaning once the sun is out, they create more of it in a shorter amount of time compared to people with a different hair colour.
5. Red hair never turns grey – always on the young side of life
Worried about ageing? Relax. Gingers skip the process of slowly turning grey, they just turn to rosy-blonde colours and later to silvery-white.
What's more, red hair retains its natural pigment longer than any other shade, meaning you will most likely always look younger than other people your age.
4. Gingers are more likely to star in commercials – a career in spotlight awaits
According to a report by Upstream Analysis in 2014, 30 percent of all TV commercials run during prime time in the US sport a redhead. Keeping in mind that only two percent of the world's population are gingers, that's a whopping high percentage.
So, if you have red hair and are looking for a second career in the spotlight, you might have won the genetical lottery.
3. Female redheads can handle pain better – real-life superwomen
Scientists at McGill University in Montreal found out that ginger women could tolerate up to 25 percent more pain than their counterparts. Considering that, according to other researchers, they are generally more sensitive to pain, we think it's safe to say that female redheads are real super women.
On the other hand, they are harder to sedate. They require up to 20 percent more anaesthesia to be put to sleep for surgery.
2. Bees are attracted to ginger heads – one of the strangest facts about ginger hair
One of the strangest facts about ginger hair is that, apparently, it's a bee magnate. While there isn't enough scientific proof yet, gingers regularly take to the internet to share their experience.
Researchers believe the reason behind it might be that the red colour reminds bees of bright flowers.
1. Gingers have more sex than blondes – can't resist the red-head
Blondes might have more fun in life in general but when it comes to mating, gingers are most likely to get lucky. According to German scientist Werner Habermehl, redheads have a more active sex life than those with blonde, brunette or black hair.
The reason behind it is unclear, but our guess is their beautiful appearance just knocks their potential partners off their socks.
Your questions answered about facts about ginger hair
If you still have questions, we have you covered! In this section, we've compiled some of our readers' most frequently asked questions and popular questions that have been asked online about this topic.
What is special about ginger hair?
Red hair is the rarest hair colour in the world, making it stand out more than typical brown, black, or blond hair.
What are the top facts about redheads?
We think that our top ten facts about redheads are some of the most interesting. We think number three is particularly fascinating!
What colour eyes do most redheads have?
The most common eye colours for redheads are brown, hazel, and green. If you have red hair and blue eyes, this is the rarest combination!
RELATED ARTICLE: Ginger Irish man "evaporates" after exposure to Australian sun